On May 24, Commissioner Brian Peddle was elected the 21st General of The Salvation Army during the 2018 High Council. Following the conclusion of the High Council, the General-elect was interviewed by Lt-Colonel Brian Venables, communications secretary at International Headquarters, reflecting on his new role and responsibilities.
We have a very good outline of your history with The Salvation Army, but we want to know a little bit about you. What excites you? What gets you up in the morning? What makes your day?
What gets me up in the morning? Sleep and rest are a necessity but engaging a new day comes easy. I wake with three thoughts … First, I hope the family is OK, then I hope the Army is OK and finally I hope the world is OK – and all before you make the first coffee – through a check on social media. As an international leader I am keenly aware that while I am finishing my day, half the world is just beginning. The idea and thought that The Salvation Army is a 24/7 reality is quite intriguing. As never before, I am aware that the sun never sets on The Salvation Army flag.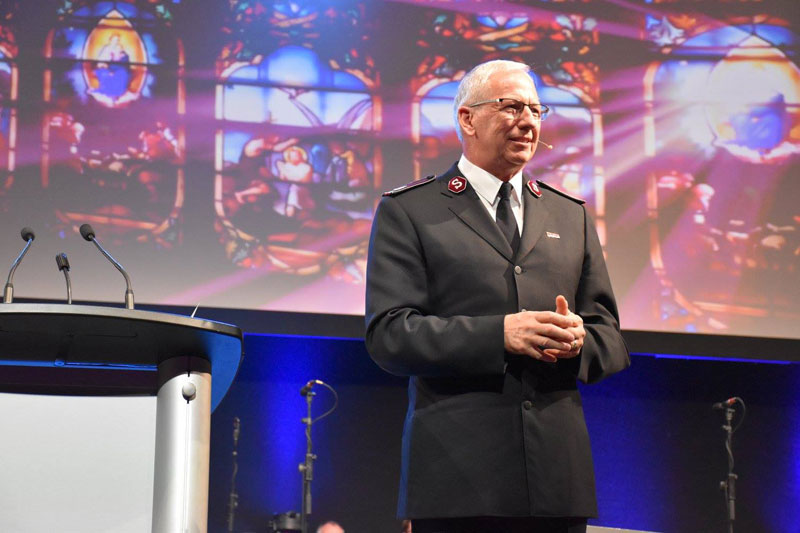 What excites me is the ongoing reality that people are engaged in mission, and the vibrant activity of the Army continues … the gospel is being preached, suffering humanity is being served, strategies are being planned, schools opening for children, a mobile clinic rolls into a needy community, or a meal is served. What gets me up in the morning is knowing that the Army has not been sleeping – it's a living organism and I engage with it as soon as I wake. I find that quite inspiring.
Do you hear lots of good stories?
My inspiration comes from the good stories that arrive reminding me that the world is small and very interactive. I am privileged and daily I am aware of an Army that is using its spiritual footprint in the world to the fullest extent. I never cease to be amazed at what God is doing. There are also many days when I am concerned about, and praying for, some part of the Army world where there is conflict, or there is a natural disaster, or some of our people are at risk. We are serving in 128 countries and almost without exception, a news headline draws attention to the fact our people are there as well, sometimes serving in the midst of their own tragedy. That's the volatility of the world that we live in. I think there is lots of room, not only to celebrate God's faithfulness but also to pray through some of the challenges faced by people and the circumstances that surround them.
What relationships do you value the most?
I thank God every day for my growing relationship with him. I am simply aware of his presence and a journey that remains an adventure with the Almighty. I am presently understanding what it means to live in this world and still do so with an active consciousness of God's presence. Family comes next. My wife, Rosalie, has been a central focus for 40 years and for all of that time we have shared a ministry partnership that's been incredibly rich. Of course, we are both preoccupied with the broader family and the interaction with two daughters, sons-in-laws and five grandchildren. Our day usually ends with FaceTime as they get home from school or are heading out to evening events. The best time of the day is when the screen comes alive and I hear the words: "Poppy, I have something to show you." We stay connected even though we are not together often. I might admit and put out there as a caution to all that sometimes life moves so fast that personal needs are challenging. We are very conscious about making time for others.
That's quite a commitment.
Well, they're all important!
How did you come to The Salvation Army?
That was an interesting time in the life of my family. I credit my Mom and Dad, who were not Salvationists, but were a bit uncomfortable with things that were happening in their local church. In obedience to God they started to go to the Army and sometimes I would go along. Early in that experience they found a really good place in the Army where they were welcomed and embraced. Before I knew it, WE were attending!
I was immediately taken by the music, by vibrant preaching … I would even now remember the animated and enthusiastic preaching and strangely I remember testimonies. I was used to a very quiet, formal liturgical experience.
I admit I was attracted, pulled in and warmly welcomed and embraced by corps officers and people who displayed God's love and genuine interest in us. A month ago I had the privilege of going back to that corps, Trinity Bay South, in Dildo, N.L., to lead the 125th anniversary celebrations. All I can say is that God is faithful.
So, there were other opportunities to be engaged besides family worship. Were you involved in the music sections or corps cadets?
No, I've missed most of that by not showing up until I was 14-15 years of age. I had skipped some of these formative things that many of our Salvationists get to enjoy as kids growing up in the Army. Strangely that was never an issue. I soon became a soldier and without a lot of time in between was sensing a call to officership and not to be dismissive. The rest is history as I now get to lead this incredible Army that gave me space and a spiritual home as an uncertain teenager.
http://virginiasalvationarmy.org/wp-content/uploads/2018/06/general_elect_peddle_1.jpg
533
800
jspruill
http://virginiasalvationarmy.org/wp-content/uploads/2015/12/NCV-DMG-small1-300x631.jpg
jspruill
2018-06-05 07:31:09
2018-06-05 07:31:09
The Salvation Army 21st General for the 21st Century